The next installment in the Aurora Teagarden murder mystery movies, Real Murders, will premiere Sunday, July 26 at 9/8c on Hallmark Movies & Mysteries. Candace Cameron Bure returns as Aurora along with Marilu Henner who plays her mother.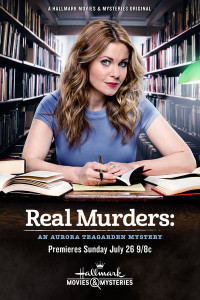 Fans of the Aurora Teagarden books by author Charlaine Harris probably noticed that Real Murders is actually the first in the series while A Bone to Pick is the second. However, the network seemed to feel that the plot from A Bone to Pick introduced us to the characters and town better, so they produced that movie first.
Official synopsis:
A mystery hits close to home for Aurora Teagarden (Bure) when a member of the Real Murders Club she presides over is found dead. Aurora realizes the crime mirrors a case discussed by the club and fears that one of her members could either be the next target or even the murderer!  Much to the chagrin of her protective mother, Aida (Henner), Aurora investigates this murder and the killing spree that follows with the help of visiting mystery writer – and love interest – Robin Daniels (Dunne).  Aurora must use her sleuthing skills to solve the mystery before she, herself, is targeted for real murder.